This web page is no longer maintained. Please visit Jesse's official website to see current information.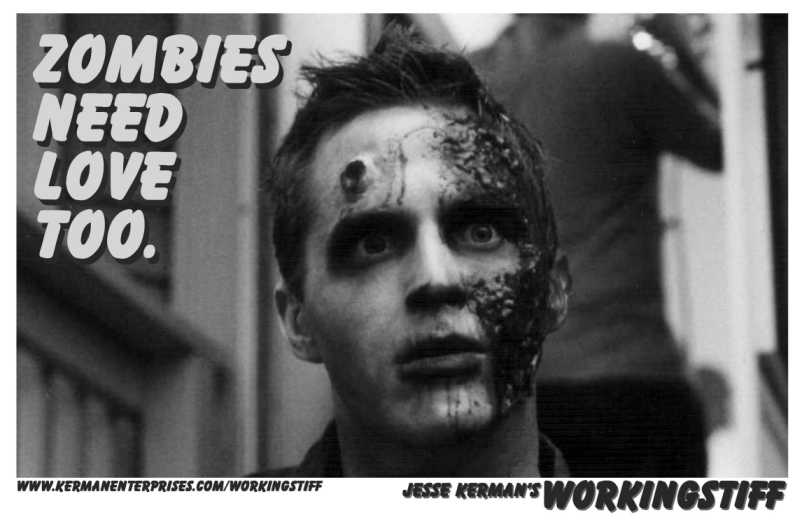 Working Stiff is a black comedy about one zombie's lonely pursuit of unrequited love. Bill has a crush on Sheryl, the Goth girl who frequents the video store where he works. When he ends his life to prove his love for her, things go from bad, to worse.
Watch
You can watch the movie at:
ifilm.com
Info
Shot on 16mm B&W Kodak film. 14 minutes long. For festivals, available on VHS (stereo), MiniDV (stereo), and 16mm film print (mono optical sound track). Completed on 5/5/2002. Shot on location in Boston and Somerville, Massachusetts. Picture edited on Steenbeck, sound edited on Final Cut Pro and ProTools. As of this writing, Working Stiff has not won any awards. It was an official selection in the 2003 Hollywood Underground Film Festival, the 2003 Tromadance Film Festival, the 2003 ZombieDance Film Festival, and was shown at the 2003 Mini-Cinema Film Festival (Aug 2nd, Fairmont, WV), and the San Francisco Underground Short Film Festival (Aug 16th, 2003), and the 2003 Boston Underground Film Festival, and has been selected to be on the upcoming release from Troma entertainment, The Best of Tromadance Vol #3.
Email
You can email the producer at:
jesse_kerman@yahoo.com
Filmmaker Biography
Jesse Kerman has been making movies since he was 10, usually writing and directing. He has made several short movies on video and film, garnering regional success with Night of the Living Lush which showed regularly on cable-access in Northampton, MA. He has been homeschooled his entire life except for three years of high school, and chose to pursue self-directed experiential learning instead of film school upon his graduation. He has worked in many capacities on short films and videos in the northeast and in the bay area where he now lives.
Filmography
Directing/writing/editing/producing (all shorts):
2002: "Jesse Kerman's Working Stiff"
1999: "Night of the Living Lush"
1997: "Window Pain"
1996: "Watch Yr Head, Barry"
1995: "Dead Rodent"
Complete Cast List of Working Stiff
| | |
| --- | --- |
| Bill | Matthew Cooney |
| Sheryl | Lisa Stanton |
| Grim Reaper | Deirdre Williams |
| Beggar | Christopher Henderson |
Crew List
| | |
| --- | --- |
| Writer/Director/Producer/Editor/Storyboard Artist | Jesse Kerman |
| Assistant Director/Co-Producer/A.C. | Florencia Manovil |
| Directors of Photography | Tom Hoppe, Florencia Manovil |
| Music composed and performed by | Ben Murphy |
| Sound Design | Kevin "Bud" Durand |
| Makeup/effects | Nicole Johnson |
| Gaffers | Jason Barnoski, David Waingarten |
| Sound Mixers | Chris Henderson, Cary Krowne, Corrine Diggins, Greg Flanagan |
| Props | Angela Waldrop |
| Carpenter | Justin Akremi |
| Labs | WRS Labs - Pittsburg, AlphaCine - Seattle, Noise & Light - Seattle |
Pictures
Click on any thumbnail to see a larger picture.


291 people have visited this page since July 24, 2003.

Hosted by Kerman Enterprises